Dog Training Reviews - Just The Plain Truth!
Finally,

Independent

Honest

Reviews

On

Dog Training

Programs & Services.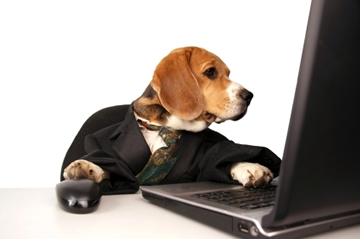 Dog Training - Further Dog Training
From Gerry Peterson
December 24, 2008
Dear fellow dog lover,
Thanks again for visiting our
dog training
review site.
As you may have learned by now, we believe strongly that;
" all dog owners and their dogs will benefit from carrying out some general training at home."
When you give you and your dog plenty of time to practice these commands, you should be able to achieve most of them.
This is especially true if you invest in good quality
training resources
.
We would recommend owners invest in a dog training book and carry our training at home as early as possible.
However, there may be cases when you want to further your dog's training.
Some reasons to further your dog's training
After a long time of training, your dog is still not learning the commands.


Your dog learns the commands during practice, but then once the situation really arises, he doesn't perform.


Your dog is exhibiting aggression that cannot be controlled with training.


Your dog did not receive very much socialization during his critical develop periods, so you want him to be around other dogs and people.


Your dog has succeeded with all of his training commands and you want to continue to stimulate his intellect with even more advanced training commands and socialization opportunities.
To further your dog's training, you have several options.
You can:
Go to a training class.


Hire a private trainer.


Send your dog to a training camp.
How exactly to Further Your Dog's Training
Let's look at each option a little more closely shall we?
Training Class
A training class is a fun opportunity for your dog to learn new—or reemphasize old—and meet other dogs. These classes are usually small in size with one instructor. The dog owners are required to attend as the training is also for you.
During the training class, you learn commands, practice them in class, and then you are assigned "homework." This is where the real practice takes place. You will need to make the commitment to do your homework.
These classes are fairly inexpensive. They are typically available in a variety of skill level, so there is a class for just about any dog!
Private Trainer
If your dog is having more significant obedience and behavioral problems, you may want to consider a private trainer. With a private trainer, you will get undivided attention that can focus on your dog's specific problems.
Since
training
with a private trainer is so focused, it usually does not need to last more than a few weeks—depending on what areas your dog needs help with.
Of course, there is a price to pay for the personal attention of a private trainer. Prices vary depending on the trainer and the extent of help your dog needs.
Remember, do some homework first by reading up on
dog training
yourself though and try some basic obedience training at home yourself.
Training Camp
Another option is sending your dog to "training camp." This is an intensive training session (usually 2 weeks) where your dog stays overnight at the training facility. A trainer or team of trainers works with your dog on the commands that your dog needs help with the most.
This is particularly useful for a dog with serious behavioral issues.
After two weeks at the facility, you will pick up your new and improved dog! Training camp is also quite expensive, but the price does include room and board for your dog.
They also usually offer follow-up sessions.
This can be a great option if you have a vacation coming up and need a place for your dog to stay.
Questions to Ask a Trainer
Whichever
training option
you decide on, there are some basic questions which you should ask to any trainer, including:
What commands do you teach in class?


My dog has a problem with (command), how would you go about training him with that problem?


How do you teach a dog to "stay?" (This will give you a good idea of her training style.)


How many dogs are in a typical class?


How much individual attention will my dog receive from you?


What training equipment is needed for class?


Can I visit one of your training classes before I decide?


Do you have a guarantee policy?


What vaccinations does my dog need?


What are your credentials?


Do you have any references that I can contact?


Again, to repeat,
" all dog owners and their dogs will benefit from carrying out some general training at home."
When you give you and your dog plenty of time to practice these commands, you should be able to achieve most of them.
For further information on dog training and management of behavior issues, please see our
dog training reviews.
The reviews are aimed at helping you choose the best training resource for you and your dog.
dog training reviews
Best regards,
Gerry Peterson
Dedicated to helping you have a 'happy & well trained dog'.